Running a small business in Dallas and North Texas can be a rewarding venture, but all of the details required may take some getting used to in the beginning. One of the most important parts of the venture is setting up bookkeeping services for your small business. This is true whether your enterprise is a boutique, church, homeowners association, start-up or non-profit. No matter the category, Slaton Financial Services can help you find the right bookkeeping fit for your business needs.
Bookkeeping Service Basics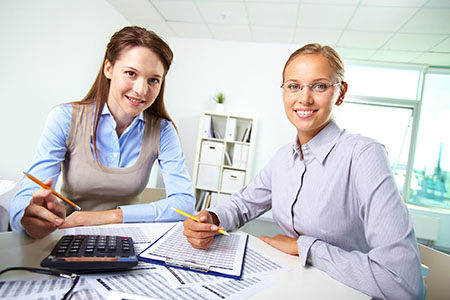 Those designated to do bookkeeping for your venture will be responsible for your accounts, recording all transactions while keeping track of costs and income. According to the U.S. Bureau of Labor Statistics, the average pay is over $40,000 for someone starting out in bookkeeping. It's no wonder.  Depending on the size of the company, this can be a massive job.
Bookkeepers produce financial documents and other statements in addition to preparing deposits and checking receipts. They handle staff payroll, invoices, purchases and keep track of all accounts. These responsibilities are not only required for running a business, they will aid business analysis as you grow. It is important that all bookkeeping documentation is done in a timely manner without errors.
Yet most small businesses and start-ups don't have money to pay that $40K salary or benefits.  The good news is that you can get the same services and save money with Slaton Financial Services.
Small Business Bookkeeping Overload
One of the biggest mistakes small business owners make is trying to handle their bookkeeping all by themselves. The responsibilities can be overwhelming and the business begins to suffer the consequences. The start-up years of a venture are a make or break time period.  If you get backlogged in your bookkeeping, it only gets worse.
Turning the duty over will make sure that costly errors are caught quickly and your business operations overall will be more efficient.  We can be those extra hands to keep your bookkeeping up and running as well as up to date. Plus, it will be cheaper than that $40,000 salary you'd pay staff.
Outsourced Bookkeeping
Slaton Financial Services is your resource for quality affordable bookkeeping in the north Texas area. We have a team of bookkeepers to handle ventures of all sizes and kinds. Having been in business for many years, our outsourced bookkeeping is ready to go from day one and we have the ability to continue to work with you as you grow. In addition, outsourced bookkeeping can be a less daunting task, especially financially, than hiring someone in house.
If you talk to others in small business, you will find that many recommend outsourcing especially if you lack a strong background in bookkeeping and don't have tax law knowledge. There is another great advantage to outsourced bookkeeping! It gives you the time you need to invest more of your energy in the future and success of your business.
Keep Texas in your Bookkeeping
One of the main advantages to choosing Slaton Financial Services for your small business bookkeeping services is we know Texas! We have an expert staff that stays current on the laws and regulations of Dallas and surrounding areas.
It is our responsibility to be aware of any changes in state and federal tax guidelines that are important to your business. It is an added bonus serving you and your business's bookkeeping needs knowing that we are helping one of our very own in the north Texas community to succeed!
Call Slaton Financial Services today and let us take on the responsibility of your bookkeeping so you can focus on doing what you care most about – growing your small business or venture.