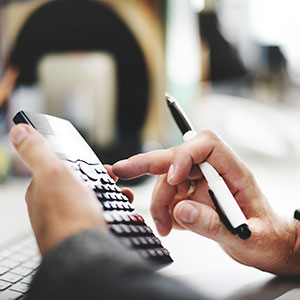 When you hire Slaton, you aren't dealing with an unknown person far away.  We have a team of commercial financial experts who are trustworthy, intelligent, and well trained. Our goal is to facilitate your business success through our dedicated actions and our open process.
As our list of clients has grown, our capability has grown over the years to include everything from bookkeeping to commercial tax services.  You don't have to outsource to people you don't know.  You can outsource to us and receive expert financial services tailored to your business.
What Are Financial Services?
Tax Services and Consulting
Businesses shouldn't go it alone with quarterly or yearly taxes.  Our team will make sure the math is correct, all rules are followed, and all exemptions claimed.  The Slaton staff tracks the changes in tax laws, preparing today for your questions tomorrow.
Since we also do bookkeeping and payroll for many clients,  you can be sure we know the requirements for local sales taxes and for federal income tax withholding. In short, we have every angle covered.  Learn more about these financial services.
Professional Bookkeeping
Our bookkeepers are local, honest and accurate.  Our team lives in Dallas area, and we are proud to call North Texas home.  You can get to know us, and we can get to know you. In the long run, that produces the best results.  On the one hand, it's a more open system when people can meet face to face if necessary. On the other hand, our team knows their jobs, and they can perform independently.  You won't be pestered with unnecessary questions. Read more about these financial services.
Payroll Processing
Why struggle with payroll? Our Dallas bookkeepers will make sure the checks go out on time. We'll also make sure each paycheck has the correct withdrawals for retirement plans, health plans, federal taxes, Social Security and Medicare.  Of course, we can handle direct deposit and cash cards. Find out more about these financial services.
Human Resources Support
North Texas area businesses can count on Slaton for human resources support.  We have two inexpensive packages that help our clients stay up to date on publications and regulations. You have unlimited access to our well-written, well-researched information.  You'll find much that applies specifically to your business, helping you meet obligations to management, employees and government. What is human resources support? Who needs it? Read more.
Employee Scheduling
If you want scheduling to be easier, more precise and truly modern, we have the system for you.  You will have the ability to fill shifts quickly and communicate the information via email, app, and text just as efficiently. This conduit ensures that everyone is on the same page. No information is lost in translation.  
Area businesses use our system to reduce labor costs. Managers know whenever someone misses a shift.  Managers and employees can switch shifts more easily, reducing the chance of an unmanned post as a critical time.  Read More.
Automated Time Keeping
Time keeping can be automated. This eliminates human error that may be accidental or deliberate.  With Slaton, this system is made easy for our clients. It helps you keep employees honest, improve attendance, and reduce waste.  Learn More.