Get a Solid Grip on Payroll Dallas
Each business has different day-to-day concerns, but there is one headache that is the same across the board: payday. From small enterprises to the largest, you can ensure accuracy and oversight of every paycheck with payroll Dallas services at Slaton Financial.
Long gone are the days when pay was handed out in cash at the end of the week.  These days, it's much more than a check at the end of the week or the month.  Business face many complications due to the number of employees, compensation amounts, and federal withholding. There are also considerations such as direct deposit and the use of cash cards.
Why is Pay Day so Tricky?
Pay day is tricky, especially for a business that doesn't have a handle on all of the variables.  The list is long, and it just keeps growing:
Variations in pay amounts, due to compensation levels, raises, or hours worked
Variations in pay schedules: weekly, bi-weekly and monthly
Retirement withholding
Federal tax withholding
Medicare withholding
Social Security withholding
If these items are calculated incorrectly, even for one person, the whole system may get called into question.
There are all kinds of pitfalls. Percentages can be messed up if retirement amounts are done incorrectly. Withholding too little FICA or too much can cause headaches for individual employees and trigger government oversight in extreme cases. Certainly, no business owner wants to be forced into playing catch-up because raises weren't implemented in a timely fashion.
This is why so many businesses utilize an outside firm to handle paying their employees.
Outsourcing Gains in Popularity
Outsourcing the paycheck process has increased in popularity over the years. Just as companies struggle with the cost of human resources, they also struggle with the cost of hiring the type of bookkeepers who can handle payroll correctly.  This graphic shows the latest trends.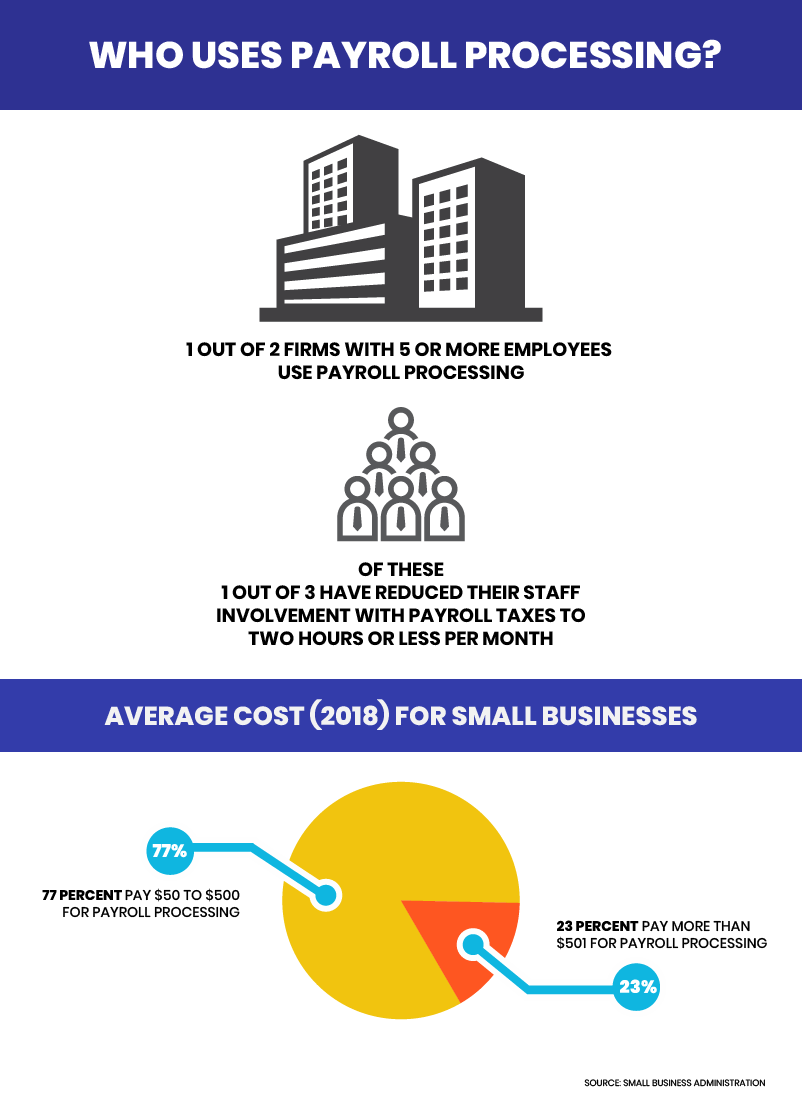 Start Up Your Business With Slaton
Are you just starting your business? There are some tips at the Small Business Administration about how to get your payroll started. If you want to make things easy on yourself, let us help you set up payroll processing and allow you time to get your business up and running.
Why Pick Slaton to Handle your Business Payroll?
Many people ask why should they use a regional company like Slaton. Our local, Dallas-based company has roots. We aren't going anywhere. You can count on us rather than a national or international processing firm without ties to the community.
With Slaton, you'll have these advantages:
You can reduce the burden on your staff and still enjoy high quality payroll processing.
Your payroll will be done in a timely and accurate manner.
Even if your staff is too busy or dealing with a crisis, payroll is accurate and on time.
As a firm and as individuals, we have years of experience, skills and knowledge.
Our large team works together to ensure your satisfaction.
Our sizable client list demonstrates how well we take care of our business customers.
Slaton puts a premium on honesty and trustworthiness.
Slaton honors its privacy commitments to its business clients.
We can help new businesses establish good payroll practices.
We can help existing businesses improve their payroll process.
If you want to know more, please contact us online or call us at 214-343-0642.
We will process your payroll. Your clients can receive checks, direct deposit or cash cards.
Cash Cards