If your company missed the deadline to file for a business tax extension, we can help get your paperwork in order. There are different deadlines for corporations and LLCs. Some extensions are also automatically approved by the IRS, while others take time. With help from Slaton professional tax services, you can stay on top of business tax extension filing deadlines.
Missing the deadline is serious. If this has happened to you, don't delay. Contact Slaton Financial Services right away to get help with filing your extension.
If you filed for the extension but you need help with your business taxes, we are ready and able to get them done and filed on time. You have six months to file, but you may need to know what your tax burden is much sooner than that in order to meet it.
IRS Business Tax Deadlines and Related Details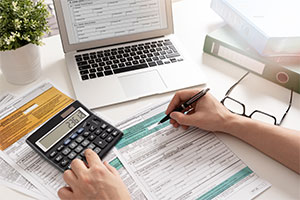 There are two filing dates for different businesses, and both have passed. This makes its crucial to act quickly to meet IRS requirements.
March 15th is the deadline for corporations and S corps to file an extension with the IRS.
April 15th is when single-owner businesses and sole member LLCs need to remember when they need an extension. It's also the deadline for business partnerships and LLCs with multiple members.
If you filed an extension, keep these things in mind:
Most corporations receive automatic approval when they file a business tax extension before the deadline.
The extension gives you an additional six months to gather documents and file the business tax forms.
That six months is a firm deadline for almost every business. Corporations headquartered in the U.S. rarely receive an additional extension.
In some cases, businesses with operational offices overseas may have an extended grace period.
If you didn't file your return or ask for a business tax extension, don't delay. You will be charged penalties if you don't act fast and get ahead of the situation. You need solid financial help from business tax experts at Slaton Financial Services.
How Professional Tax Services Can Help Your Business
Whether big or small, business taxes are complicated. You don't want to rush through the paperwork and miss a deduction. Working together, we can utilize that extra six months, find all of the legal ways to save you money, and get ahead of any potential financial burdens due to taxes.
Running a business takes hard work, leaving you little time for tax preparation. That's why so many Dallas and North Texas businesses trust the professional tax services from Slaton. Call now or use this convenient contact form.